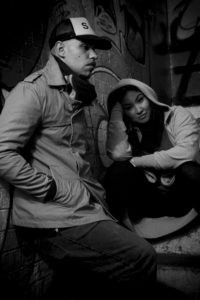 Noizy Neighbourz are a Manchester based British electronic dance act, comprising of producer and musician Darryl Connell and vocalist, songwriter and top liner Alison Bethune.
Darryl, aka Noizy Boy is no stranger to the Music Industry. He has received numerous achievements over the years, including Juno award nominations and top 40 hits on both the Canadian and American Billboard charts. He's a multi-instrumentalist, producer, remixer, mix and mastering engineer and top liner, with much experience and success in each of these aspects of musical composition. His credits include work with the likes of Blue, The Wanted, Alexandra Burke, Wiley and Tinchy Stryder to name a few.
Alison Bethune, aka Noizy Girl hails from a Gospel background, and her angelically textured yet powerhouse vocals first came to light when they caught the attention of fellow Manchester based House duo The Beat Corporation. Ali went on feature on The Beat Corporation's remake of the 702 R n B classic "You Don't Know". The song quickly catapulted gaining label interest and was signed to legendary dance label Champion Records in 2014.
The release of "You Don't Know" soon lead to Ali becoming a forerunner as one of Manchester's leading female vocalists on the underground dance and house scene. Showing off her unique and eclectic writing style by fusing her influences in gospel and 80's inspired melodies with elements of pop and funk, Darryl quickly became aware of her, and Noizy Neighbourz were born!
Noizy Neighbourz fantastic debut single "My Love Is Right", a re-work of the 80's Champagne classic dropping on Champion Records in the summer of 2017. With early support from names spanning far and wide within the industry we think it's fair to say Noizy Neighbourz are here to make some serious noize!! This track has summer written all over it with an infectious organ bassline, classic house piano and powerful soulful vocals, all polished to perfection leaving shivers down your spine. Be it at the club, in the car, on the beach or by the pool this record will put a smile on your face and leave you screaming for more.