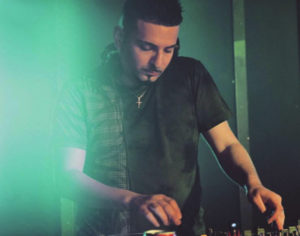 MIKE DELINQUENT PROJECT
Mike Delinquent is into his 12th year in the music industry, having been asked by the Arts Council to quit his job in a phone shop to make music professionally full time. This ended up being a life changing move for Mike, who followed his music dream initially by co-founding production act Delinquent.
Following countless remixes, notably Usher (Caught Up), Ciara (1,2 Step) Natasha Bedingfield (Single), Taio Cruz (Come on Girl) and a top 20 Uk chart hit with "My Destiny" feat Kcat, Mike decided to go solo and produce under the name Mike Delinquent Project in 2010.
Having already played a major part innovating the 'bassline' sound which took the UK by storm between 2003 and 2008, Mike began offering his own take on the classic UK Garage sound, beginning with a remix of DJ Fresh's "Gold Dust". However, it was the remix of Wretch 32's "Traktor" in late 2010 which received the plaudits from industry peers u0026amp; djs alike.
Upon spinning various MDP remixes on her Radio 1 show, Annie Mac mentioned Mike had been 'bringing garage back' and consequently Mike had re-ignited his reputation as one of the industry's most sought after remixers. Successful remixes of Ms Dynamite's "Neva Soft" Sneakbo's "The Wave" amongst others, raised profile and later resulted in Mike penning a 1 album deal with independent label Champion Records. Singles "Out Of Control" (ft Kcat u0026amp; Donae'o), "Step In The Dance" ft Lady Leshurr, u0026amp; "Mama Said" ft Kcat u0026amp; Mikill Pane were released between 2011 u0026amp; 2013. Mike also linked up with U.S RnB legend Usher for a 2nd time, remixing "Numb".
The MDP has also had the honour of filling in for garage legend DJ EZ a few times on Kiss radio too. These stints have resulted in Mike being the latest addition to the Kiss network's newest sister station Kiss Fresh, with a prime time upfront Underground House u0026amp; Garage show taking place every Saturday at 7pm.
2014 saw Mike expand his remix repertoire to the internationally known J-Lo, Nicole Scherzinger and Little Mix while releasing his final two singles with Champion Records featuring Wiley ("Wiggle") and Terri Walker ("Tension").
A national CD compilation "Garage Nation" was also released by Warner featuring Mike in collaboration with Matt Lam Lamont, peaking at No10 in the iTunes Chart.
The best is certainly yet to come for this North London based producer, who returns in 2015 with his own new record label imprint Zeus Sound Records to release music moving forward!